PSC Panzer III F/G/H review
Plastic Soldier Company Panzer III models
I saw the Plastic Soldier Company Panzer III F/G/H box set in my local Good Games store. At AUD$35 for five 15mm tanks I had to buy it to give my Flames of War Aussies an opposing force.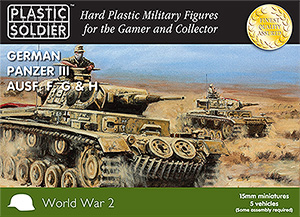 Unlike the Battlefront models, this is a plastic kit. There is one sprue per tank, and you get 5 identical sprues.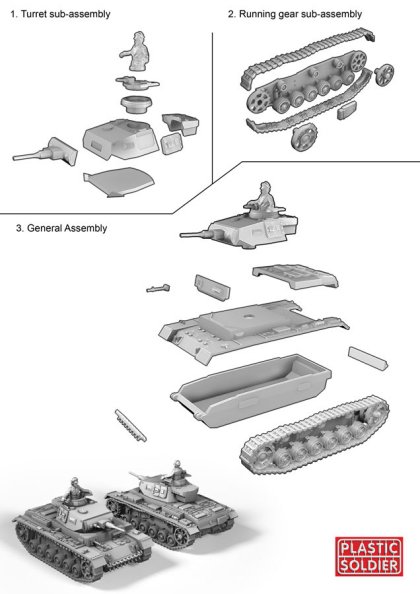 All in all I am pretty happy with it. The quality of the fit was good, and compares favourably with the GW kits I have been building the last few years.

My only concerns were:

1 - Instructions could have been a little clearer. For example in the running gear the wheels you add are on pegs that are keyed. Also in the running gear, much easier to add the little hatch things before putting on the tracks. However after the first tank the rest were easy.

2 - The fit of the piece that goes on the turret top for the commander to sit in or the hatch to sit on, does not fit easily into the hole in the top of the turret. I had to file it to fit.

Both of the above were minor, but the one thing that did bother me was

3 - A casting issue where the 50mm gun meets its mount. There is a noticeable divot on all 5 sprues. Unfortunately it appears on the top of the gun (if it was the bottom I wouldn't even worry about it). This will require filling.

Overall at AUD$35 I feel that it was good value for money and I look forward to future PSC kits.
Pictures of the models assembled and primed.





Back row: Zvelda Panzer II, PSC Panzer IIIG, Battlefront Universal Carrier.
Front row: PSC Panzer IV F1, PSC Panzer IIIG, PSC Panzer IIIG






Back row: PSC Panzer IV F1, PSC Panzer IIIG, PSC Panzer IIIG
Front row: Battlefront Universal Carrier, Zvelda Panzer II